It is another chilly, cloudy November day here in Northern
California. We have had a couple of rains, but not in the past week. The LG (Landscape Guy) told me to ignore the intermittent rain, as it does not water the new plants deeply enough.
Thus, I was outside watering, despite the season.
As I worked my way along a "hoped for hedge" a green SUV pulled into the drive and a lady got out and introduced herself as a new neighbor just down the road. We have been here a year, but she has only been here a month - so she is really new and I welcomed her.
She asked how we like it here, and I said we are enjoying the rural life. The neighborhood is friendly and quiet and just what we were hoping for. She looked a little disconcerted and told me the reason she was stopping by: had we been bothered by the barking dogs two doors down from us?
I honestly had to tell her that I had not heard them, except for one day, when I did recall they seemed to bark. She did not seem to be "looking for trouble" as she told me why it was such a problem for her - she works nights and sleeps days. I could understand as my mom was a night nurse for fifteen years and getting enough sleep was a constant challenge for her.
Nevertheless, there was something in her approach that bothered me a little. Instead of just going over and politely knocking and asking them if they could try to quiet their dogs down because of her "day sleeping" needs, she was going door to door trying to drum up a little cabal to approach them en mass. # # # # #
While there could be a number of legitimate reasons why this lady was using this particular approach; it did remind me of a story I heard many years ago.
A family driving their car through a rural neighborhood stopped to ask an old man sitting on his front porch what kind of neighborhood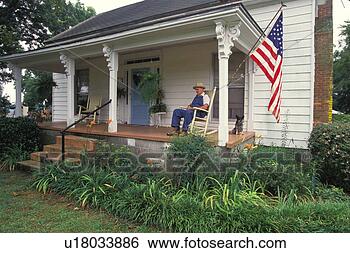 American Spirit Images - Royalty Free
it was.
"We are thinking about moving here, and we would like to know what the neighbors are like" they told him.
The old gentlemen stroked his chin thoughtfully and slowly asked them, "Well, what were the neighbors like where you came from?"
"Oh, they were awful. Lots of problems. We didn't enjoy living there at all."
"I must tell you that you would find they are pretty much like that around here, too."
Keenly disappointed the family drove on down the road.
The following week another family stopped at the same old man's porch and asked a similar question. They, too, were considering moving to his neighborhood.
"Well" he said carefully, "what were the neighbors like where you came from?"
"Oh, they were wonderful. We enjoyed living among them and we were sorry we had to move."
"I think I can confidently tell you that you will find the neighbors here to be very much the same" he said with a smile.
# # # # #
The moral being that sometimes we find the very thing we expect to find. Smart-alacks call it a "self-fulfilling prophecy." I don't know about that; but I do know from experience that more often than not we get what we go looking for.
# # # # #
The *LOC and I came here a year ago looking only for a friendly, quiet place to hang our hats. I am happy to report that our hats have hung undisturbed for a year now, and I am very thankful. We found just what we went looking for.
Hope no one is disturbing your peace and quiet today. And that wherever you hang your hat, you have found what you are looking for. Until next time ... Marsha
*Lovable Old Coot