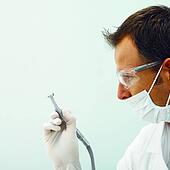 This is Chapter 14 in a series entitled
Telling My Story.
I only got the job as the office manager of the dental practice where I worked for three and a half years because it was a small town, and a friend of a friend of a friend recommended me.
I had no real qualifications, other than that I was willing to work hard, I learn rather quickly, and I had fairly good people skills. Other than that, I was a tabula rasa, a blank slate.
However, before many months had passed it appeared that that I had a head for business - who knew? I improved the inventory control process, cleaned up the appointment book, and went to work on the payroll system.
The practice was making more money than it ever had and the doctors were thrilled. The time came when the original staff simply could no longer keep up with the patient volume we were seeing each day and something had to be done. It was decided that the most cost effective way to increase our productivity was to hire a high school intern to come in to do the "scutt work" (cleaning the operatories, putting the instruments in the autoclave, filing, filing and more filing, etc.) each afternoon.
This would free up the chair side assistants to do more skilled work, and would allow the doctors a little more time to dictate treatment notes and make follow up calls to patients whose treatment had been extensive. I would have more time to complete insurance claims.
Since I was the office manager, they told me to hire someone. I had never even interviewed anyone, much less actually selected and trained a new hire.
I was both excited and scared. The first few candidates did not appeal, but about the second day of interviews in walked a lovely looking girl, a senior in high school, who was articulate and seemed to really want the job. Keep in mind it did not pay a lot, but it could be a chance for the person chosen to explore a career possibility. It would be hard work, too.
This young lady (we will call her Lily) said she was eager to try it, and was new to town, so she didn't have many friends and was not yet involved in after-school activities. This was good, fewer distractions.
One of the dentists met her briefly and told me it was up to me. He didn't really care who I hired, just as long as we got some help quickly. So Lily was hired, and told she could begin the next afternoon.
I do not know for certain who it was that showed up the next day, an evil twin perhaps; but whoever she was, she bore only a passing resemblance to Lily.
First, her fingernails seemed to have grown about an inch and a half overnight. I don't know how that happened, but whereas in the interview they were clean, cut short, and unremarkable, now they resembled a siren's tools of the trade, bright red and looonnng. (How was she going to scrub Comet out of sinks with those ?)
Next, this girl, whoever she was, had applied her makeup with a trowel. Lots of magenta and azure was in evidence.
Finally, the Lily who showed up for the job was dressed nothing like the Lily I had hired. For the interview she wore a demure black skirt and white blouse. For her first day on the job she appeared in some spandex get-up, that from the waist down seemed to resemble a wide belt more than a skirt. To be fair, she had spectacular legs, but this was supposed to be a medical office, not a strip club.
To frost the cake if you will, when she put away her purse, and got ready to get down to business, she flipped out a little ruffled apron about the size of a handkerchief and daintily tied it around her waist which was about the size of a straw. The apron looked like one of those French maid get-ups in a farce. I half expected her to whip out a little feather duster to match it.
I was chagrined, but hoped that it was just first day jitters causing her to over-reach in the "please notice me" department. Unfortunately, the second and the third day were no better. Moreover, the younger of the two dentists was a handsome guy who was not above a little flirting and Ms. Lily took to that like a duck to water. She was only seventeen, but she was going on thirty.
# # # # #
By day three, it was obvious that I had made a "hiring error." The younger doctor called me back to his office and informed me that it was not working out and Lily would have to go.
"Oh, surely we could give her a little more time to fit in? I would hate to see you fire her so quickly."
Dr. R. looked at me askance and said with no trace of humor in his voice, "Marsha, I am not going to fire her. You hired her. You fire her." End of discussion.
I began to try to reason with him and pointed out that at least she had a cheerful disposition. No matter.
"Marsha, let me help you understand something. I work a-l-l-l-l day long with a high-speed drill, three inches from the patient's brain. She is going to come tripping down the hall, past one of the open treatment doors, in that spandex micro-mini skirt, and before you know it, someone is going to get a lobotomy!"
# # # # #
When I tried to gently break the sad news to her, later that same after noon, she sniffed back a tear and wailed, "But I bought an apron."
Who would have guessed that there would come a time when I would teach recruiters how to screen, interview, test and select new employees by the hundreds. My first hire had also been my first "fire" - and she only lasted three days.
But at least, no one got a lobotomy!