THE BOOK OF KELLS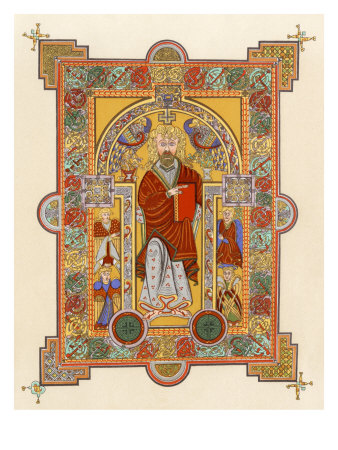 Several years ago we took a trip to Italy and the first part of the journey was one of those "logistical nightmares" that every traveler experiences from time to time.
At our age, you either learn from your mistakes, or you sincerely wish you had. We learned.
Thus, when planning our trip to the Emerald Isle, I made sure that we made the trip in stages, and we arrived in Dublin a full day and a half before the tour was to actually begin. After sleeping off our jet lag, we set out to explore the city.
We hopped a bus and went down to Trinity College, the oldest one in Ireland, to view an exhibit called The Book of Kells, Turning Darkness Into Light. We were so glad we did.


 
MARSHA AND DAVID IN IRELAND

This exhibit displays beautifully illuminated manuscripts written around the year 800 AD, and is essentially a copy of each of the four gospels, copied meticulously by Irish monks at a time when many such copies were being destroyed in Europe during what came to be called the Dark Ages. (Hence, they were turning darkness into the light of the gospel.)
After viewing these wonderful artifacts, we proceeded into a part of the college called "The Long Room" - so named because it is 65 meters long. It is a library with wall to wall books on both sides of the hall, stretching from floor to ceilings approximately twenty feet high. I had never seen so many books in one room in my life.
But (much like the late-night commercials) wait...there's more! Th
ere were busts of Milton, Locke and many others. And there was an original of the Irish constitution.
And then, in the middle of all this, we came to, what was for me, one of the most wonderful items of all. It was an ancient harp.
It was a simple instrument, much like the one
pictured at the right. But it was very old, in fact, it
was considered to be the oldest harp in Ir
eland.
There are only three instruments considered to
be native to the Irish, and the harp is one of
those.
As I pondered their history, so rife with suffering, war, famine, and deprivation, I thought how fitting that the harp, with its hauntingly lovely music, is one of their native instruments.
In the Psalms (137:1-4) the Israelites hung their harps on willows (or poplars, depending upon which version you are reading) and declined to sing the songs of Zion while in captivity to Babylon.
The Irish we met were friendly, cheerful, welcoming people, who are keenly aware of their country's sorrows, but who have overcome those times to become who they are today.
This reminded me of another verse, Revelation 14:2:
"And I heard a sound from heaven like the roar of rushing waters and like a loud peal of thunder. The sound I heard was like that of harpists playing their harps. And they sang a new song before the throne ... ."
Like many of you, David and I have known times when we wondered whether there would ever come a time of joy again. As you can see from the picture of us above, this trip was a real joy.
But there is another "trip" , the journey of life, and while we may sometimes feel that we are captive to life's heartaches, and must hang up our harps for the time being, there will come a time for all who believe, when we will take up our harps in that great, joyful celebration before the throne of the Lamb!
Vacations can be wonderful. But our permanent home with our Creator, will be better than we can possibly imagine.
"No eye has seen, no ear has heard, no mind has conceived what God has prepared for those who love him." (I Corinthians 2:9)
Until next time - God bless you ...Marsha