Of course, it could just be me, but.....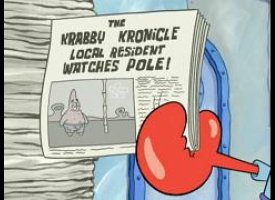 Have you noticed that everything is further away than it used to be? It is even twice as far to the corner ... and they have added a hill.
Have you noticed that the print in newspapers is getting smaller and smaller? I heard that the newspapers are doing this to save money, so they can print more words on fewer pages.
I would ask someone to read it to me, but there is no sense doing that; because everyone speaks in a such a low voice you can hardly hear them. Have you noticed?
And what about the fact that they seem to be issuing drivers' licenses to twelve year olds? Then to top that, I went to the doctor yesterday and lo and behold, he was about fourteen.
And have you happened to notice how much your former classmates have aged? I ran into an old classmate the other day, and she has aged so much that she didn't even recognize me. Ridiculous!
And then, the final insult. I was brushing my hair this morning and when I glanced at my own reflection I realized they don't even make good mirrors like they used to. Have you noticed?
* * * * *
Seriously, I hope you noticed something happy today. I am trying to pay attention to any small spot of sunshine. :) Until next time ...Marsha